I've been boo'ed! :) Thanks Kara from
Spedventures
for booing me!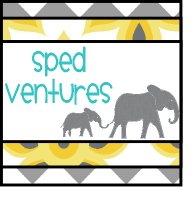 If you haven't checked out Kara's blog yet, you totally should. She's awesome and so is her blog. (She even helped me decide on my name for this blog) I am always so inspired reading through her posts and loving using her ideas in my classroom!!
Here are the rules for this linky:
1. Choose a fellow blogger that has MORE followers.
2. A blogger that has about the SAME number of followers .
3. Someone that has LESS followers.
4. Highlight their blogs with links to encourage others to check them out.
5. Don't forget to let your fellow bloggers know that you shared about them.
6. Lastly, leave them some love by offering them a goody from your store as their "treat."
A blog with more followers
:
Life in Special Education
. Karla teaches K-5 special education and always has such great ideas! She just recently shared a bunch of different fun banners to download for FREE! Go, check it out, you won't be disappointed!
A blog with about the same amount of followers (okay she has about 40 followers more than me, but I've only been here a couple of days!)
:
Adventures in Tutoring and Special Education
by Erin. I love Erin's blog as well. I found her blog thanks to Pinterest!
Oh, Pinterest, what did I ever do without you?!
She has so many great resources. I especially love her freebies on categories such as
this one
.
A blog with less followers (okay, she actually has the EXACT SAME amount of followers as I do!):
Rae at Mindful Rambles
- I am a new follower of Rae's blog and am looking forward to hearing more about her and her classroom. She has some really cute ideas, like making
clutter illegal in her classroom
.
Sadly, I don't have anything in my TPT store to give those of you I have BOO'D. I was going to upload some Writing with Symbols documents, but don't think I can...sad day.
Anyway, here's my freebie to you. I found this Halloween Story from Skills Workshop.
It's a short reading on Halloween with comprehension exercises and others reading/language questions at the end. This will be a great high interest, low readability article. I am planning on using it with my highschool functional Language Arts class. I will likely read it aloud and have student follow along.
On another note, I have CPI (Crisis Prevention Institute) training all day tomorrow. Has anyone else been through this training? Or what training (if any) have you received for working with students who become aggressive?